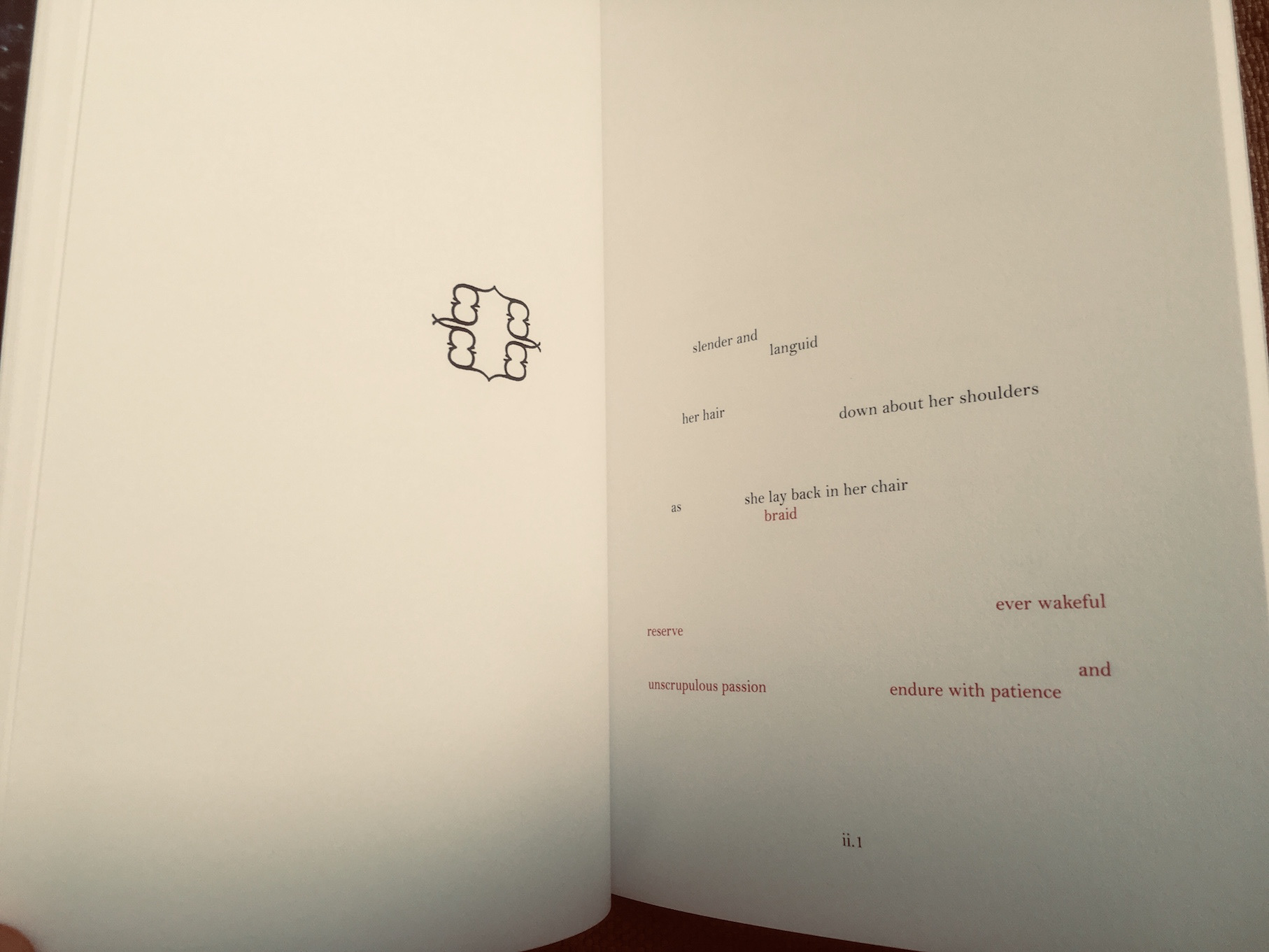 Oupire: A treatment, by excision, of Sheridan Le Fanu's
Carmilla
(1871-72)
Sheridan Le Fanu's Gothic novella
Carmilla
, in which an innocent young woman is preyed upon by the smitten, guileful female vampire who gives the story its name, is remarkable in that the story itself seems to have an omniscient presence, knowing more than the characters themselves about the portent of events. This characteristic led to my treatment of the tale, in which two strands of text, in black and red, denote respectively the conscious and unconscious voices of the book, with the black text taking that of the preyed-upon narrator, Laura, and – for a few pages near the end – General Spielsdorf, who relates his own experience of an earlier incarnation of the vampire Carmilla, and the red that of the book. The texts weave around each other on the page, bringing to light new patterns of poetry and meaning in Le Fanu's words. The text as presented accords with its original appearance and pagination in the literary magazine,
The Dark Blue
, where it first appeared in 1871-72 and on which this new treatment is based.
In 1872, Le Fanu revised
Carmilla
for publication in his short story collection,
In A Glass Darkly
, where it was given a new prologue, ostensibly presenting it as a case from the papers of the physician and occult detective Dr. Martin Hesselius, who plays no part in the story as told in the pages of
The Dark Blue
. However, as by the same technique of textual extraction the preface revealed such an apposite description ("the mysterious subject of our dual existence"), it has been used as a preface here.
The title,
Oupire
, comes from the proto-Slavic word for vampire; Le Fanu uses the two terms interchangeably in the story.
The images bookending the text are taken from a glass lantern slide of an unnamed ruin, while the picture of a forest track on the endpapers originated in a small, scuffed positif stéréoscopique sur film of indeterminate date.
Cloth-bound edition of 72 copies, printed on 150gsm Munken Lynx paper, plus a limited number of letterpress prints of page i.6., hand set and printed on Zerkall 145gsm paper.
Copies of
Oupire
are available at £30 each, plus postage. Please email me at ghobbs360@gmail.com if you are interested.